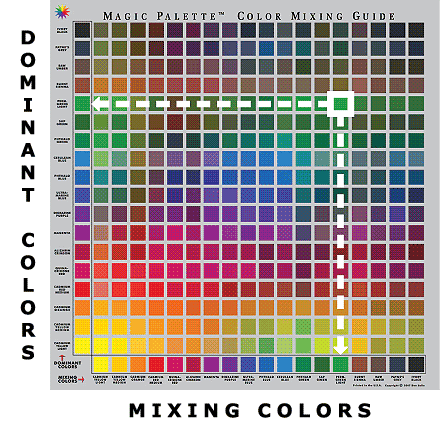 Sometimes even the most experienced artist needs a reminder of these basic tips for good practice.
When I paint, I sometimes get so subsumed in the creative process that I forget some of the hard learned lessons of past works consigned to the "good idea but didn't quite work" cupboard. Here are a few of my cardinal sins.
Don't overwork – less is more. When you are focused on a detail and struggling with it's representation it can be all too easy to "labour the point". Practice that detail elsewhere – in your sketchbook or on some practice paper/canvas. Come back to your painting when you know exactly what you are going to do.
Know your colours – blue and yellow don't always make green. I have a sheet that I keep to hand showing all the colours I use and their mixes with every other colour. There are some surprising results. To stop your mixes turning to mud, aim to use as few pigments as possible. To do that you need to take a look at the tube. Some colours are a mix of several pigments – these are best avoided to make your mixes from as they often create mud. Use them as they are or lightened only. Knowing your colours will help you use less paint too as you will know the mixing strength of each colour. The picture above is a link to an example of a ready made mixing chart with frequently asked questions answered.
Practice, practice, practice. Like exercise to keep you fit, doing a little every day will help you improve in leaps and bounds. I know how difficult this can be – four children, moving house more times than I care to remember, working long hours, caring for family. The list goes on. That's when you need to set aside even the smallest chunks of time to keep your creative brain exercised. In the kitchen while cooking, waiting for appointments, travelling on public transport to work, doodling in those tedious meetings and so on. It will soon become a habit and you will reap the rewards I promise. The saying use it or lose it is never so true as in any creative endeavour.
Look for criticism from experts you trust who create work you like. And learn to take it. Your family and friends are all well meaning people and will enthuse about your work endlessly. If they are not critics though, it may not be helpful to rely on their input alone. I don't recommend community groups either, especially those online as many are not trained to look objectively at a work. Also, many are looking  to get comments on their own work and so aim not to offend. A good way is to join a class by someone whose work suits your genre or take one of the many courses that include a critique.
Copy work by great painters especially the great masters. Yes, I really did say copy. Of course, this is work for you only. What you learn from this is invaluable. You get to see how a picture has been constructed, the design, how the elements relate to each other. What has been left unsaid for you to interpret, how the eye is drawn to what the artist wants you to see, how illusion is created. This is your opportunity to "stand on the shoulder of giants". You can look at a painting and see it, it's not until you complete that process of creating it yourself that you understand.
I hear and I forget, I see and I remember, I do and I understand. -Confucius
Happy Creating,
Janice 🙂